well, I've been big time blog slacker lately. I had a long weekend due to daycare being closed friday and me making appointments for devin on monday. We had scheduled dr. appt for 9 and pictures for 11. we ended up cancelling pictures due to a little accident at daycare: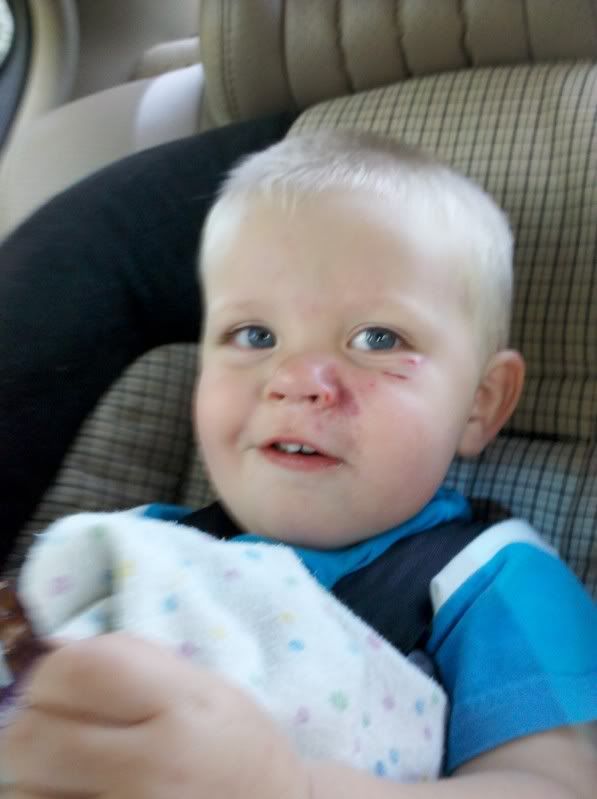 The next day it was a swollen black eye. And now it's pretty much gone other than 2 small scabs and a little yellow bruising left. Anyways, when I'm away from internet so long sometimes I get so caught up on catching up on other blogs and what-not that I forget to write my own posts... oops.
So anyways. The long weekend was spent well. Saturday was my mom's 50th birthday, we got together (once again) with most of the olson side to celebrate and watch college football, our team the UND fighting sioux. Rob worked both saturday and sunday, which sucks but the way we're struggling lately, we need the money! That wedding really wiped us out - another reason I don't want to have a wedding! Anyways, Sunday we went to Kim's again for football and Kim and I got to shop with her mom a little while the boys stayed at the house.
So anyways, I think it was Wednesday when D hurt his face. that night Rob wanted something warm for supper but still had a few hours to go when I picked up D so we brought him some and got a tractor ride :)
Devin got to (pretend) drive: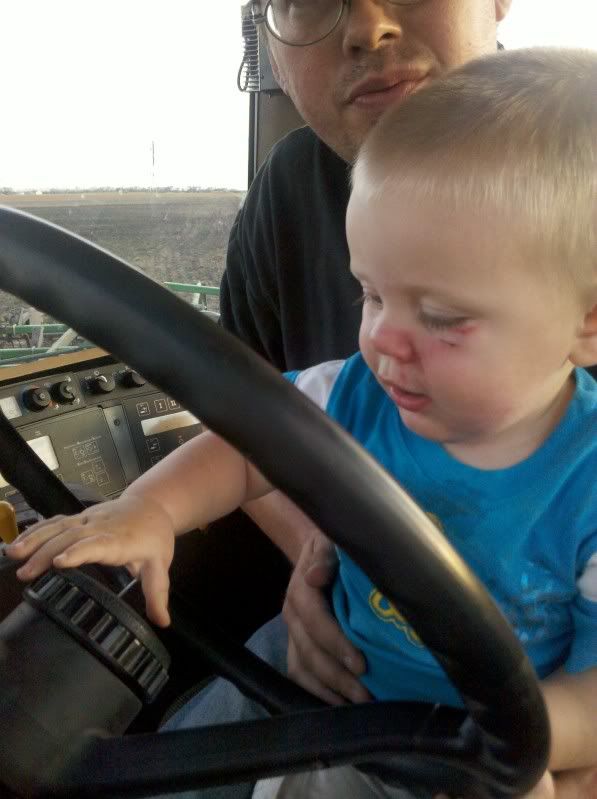 He's for sure gotten into the 'helper' phase. I love how cute he is trying to do big people stuff, but alot of times he's under my heels driving me up the wall. He now throws his own diapers away.. it's kind of become an obsession and he's ready to throw out anything he finds on the floor. The entertainment I suppose is watching mom get stuff out that doesn't belong in there. He also goes to get his own diapers in his room. Another thing - he's becoming a goofy, playful kid . With ideas of his own. Check out how he put my headband one morning this weekend, I cracked up big time when I saw this:
Here's the little guys after a bath Sunday night: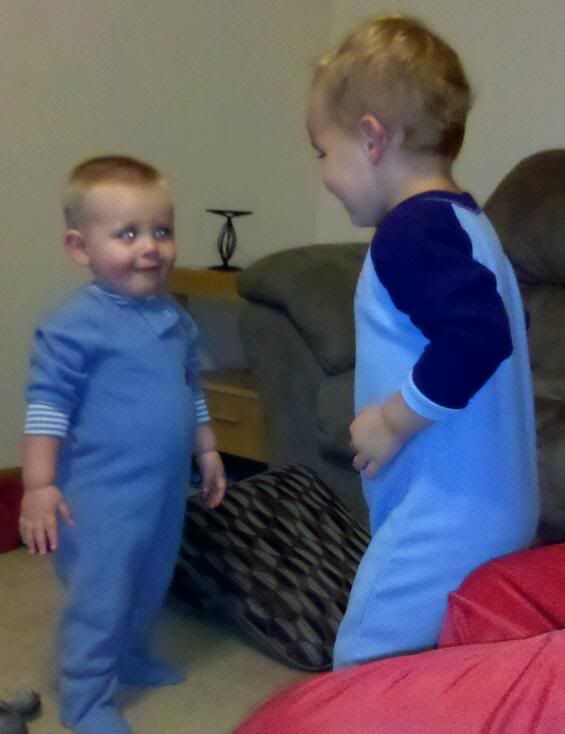 Matchy matchy.
Now for this week: we've had Devin's 19 months (shoulda been last month as an 18 month) appointment. He got his flu shot and an A+ from the doctor. He's 31.5 inches tall and 26.6 lbs. which is 19th percentile for height and 51st for height. His head is 19.5 inches which is 91st percentile. His stats always crack me up - big head, short body and average weight. And for the pictures we were supposed to have. I think I'm just gonna go without. Sad as it makes me, but I feel like I have enough 'regular' pictures that I can blow up that will do for his 18 months. From the ones my cousin took and I should be getting today or tomorrow and the ones from the wedding (I think I only got 1 I really loved of him, but I have not seen anything from the actual wedding photog.) I think we'll just go around his birthday and call it good. So anyways. Happy Tuesday.