I feel like I'm starting to get project ADD as spring time approaches, maybe it's just ADD in general, who knows.
The other day I was thinking about knitting a blanket that matches Devin's bedroom to spread on his bed when we transition out of the crib (who knows when.. give me alot of time for a blanket of any sort!). While we were at hobby lobby last week, I picked up a skein each of the 3 colors I wanted to use to get me started. (I know, terrible knitting planning)
(here's the ADD): Instead of the blanket, I started a sweater for my little man. I didn't have the needles I wanted for the blanket and plus, did I tell you what my lovely mom gave me for Christmas?
A book full of knitting patterns!
Here's
the link to the pattern I chose - and for reasons unknown I ended up choosing white (cream) as the main color - just had a DOH! moment about the fact that my messy boy will be wearing a white sweater that I intend to spend many hours making. Here's the last picture I took of it Monday night and it has grown since then: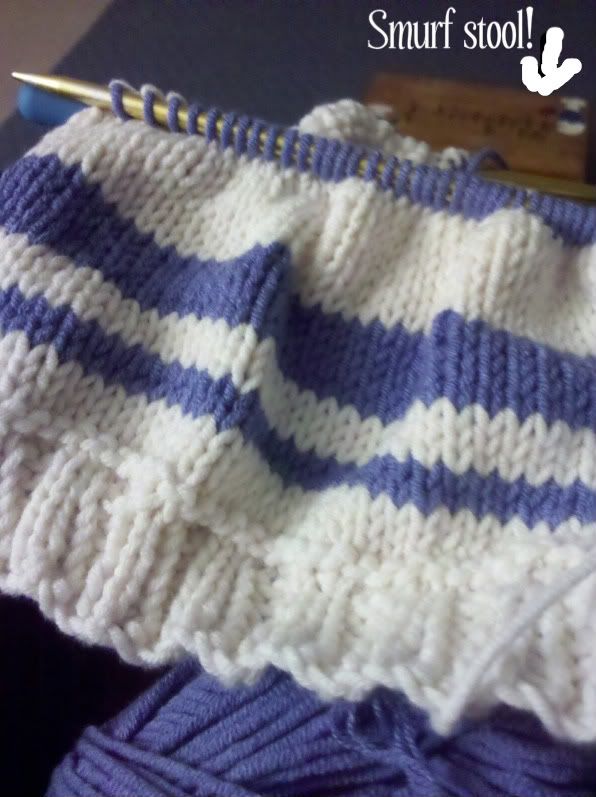 The yarn is 50% acrylic & 50% cotton and it's really soft, like
maybe I want a sweater out of it
soft. But again, now that I've started knitting it I'm hoping that I remember to never put it in the dryer.
But anyways, I've finished one of the baby projects for the most part, as in would take under an hour to have it wrapped up and ready for baby. The other has been hiding in the bin waiting for me to finish the cameron while it'll still fit my boy. :)
Happy Wednesday!
(another link for good measure)