Sooo last night was a good night. Devin went down for bed without a fuss. Sometimes when he sees me getting his blanket ready, he runs the other way. Nights when he's tired & he knows he's tired, he embraces it. Last night was the 2nd kind. He went down early too. Then at about 1.30 (I was sooo afraid it was going to be like 5.30 until I checked the clock) he started crying and getting louder and madder (watch out, I think I'm making words up). We both just sat up like WTF!? He's waaaaaaayyyyy past middle-of-the-night wakings. So, I get up and head down the hall when I see strobe light coming from his bedroom. Then I'm all freaked out and made Rob come with. Turns out it was a firetruck. A toy. Son of a..!! It was honking and singing and talking and flashing lights. No wonder the poor kid was crying. He's very familiar with the toy, but he sleeps in a crib (duh) so he had absolutely no way of stopping it (though I don't think he knows the power switch yet anyhow).
All he needed was a little rocking and all was right with the world.
Here he is right before bed last night, his sweetness cracks me up: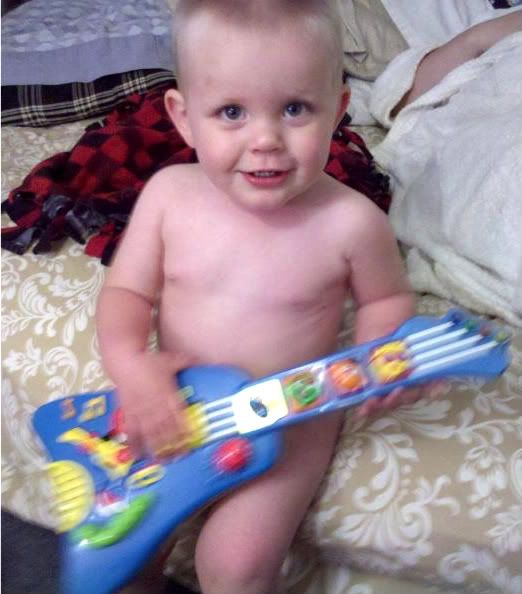 WIP Wednesday news: umm. things are actually coming along. Kim found out yesterday that she is having a GIRL! Soooo excited to make PINK baby hat & booties (i'll try anyway). I have to finish something before I do start that hat, but hopefully it'll happen before she's born at Christmas-time.
And other good news: My copy of Breaking Dawn came in the mail today. I used up {some of} my swagbucks Amazon gift cards to buy a used copy. It was like $8.00 with shipping. I am sooo excited to get a few minutes to start reading. I know once I do that I'm in for it though. :)