super slow. I had monday off and stayed home with Devin. it was wonderful overall, but no nap for either of us. which is sad. always sad. we met with Rob's mom for lunch at mcdonalds and for her to give us some crap and me to give her a phone charger. she also bought devin some new cars.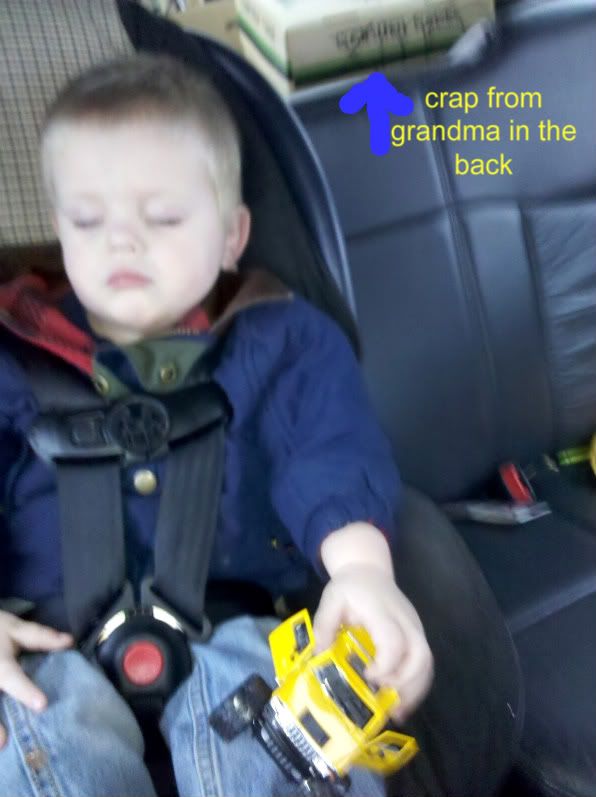 passed out on the way home from mcdonalds - stunted nap time. grrr.
also, how cool is that hummer grandma got him?!
Tuesday- work. regular day except we left at 4.30 (because of bad weather coming). also Devin went to daycare this day for the first time in months. he remembered his friends and they remembered him. it was a
super adorable
reunion.
wednesday-
no work
. storm happened and we were snowed in - at the end of march. Unbelievable.
yesterday - worked regular day. beginning of annual meeting at work. this means - no jeans this friday (today) because the boss man (and other important-looking guys that I don't know) is in town. also, we missed the office.
friday (today)- usually the short day of work. probably not today because of annual meeting. lame.
I really haven't been too busy at work either so the days/time off is nice. as we speak, one of the important guys is interviewing a guy to become a 2nd agent in our area. he looked cute too. especially when you consider that he is much younger than the 65-year old agent we already have. anyways, point is, maybe we will suddenly have more business and I will actually be busy at work soon.
Also. some knitting stuff happened this week - I'm sure if you know me, you assumed with all that time off this would happen. I'll actually have some stuff to share on wednesday. :)
Happy Friday & Happy Weekend!