well. turns out I can share one of my mystery baby projects finally! baby is not here yet, but the sex has finally been confirmed and it is a girl! and this girl's mother does not read my blog. oh. and the project is actually finished. the first one in the latest batch of knitting projects (which brings me hope for the others being finished soon too!).
So here we go. Here is
the pattern
I used (I think you have to be a member, so I'll include the picture):
And here is what we got, with dreambaby yarn: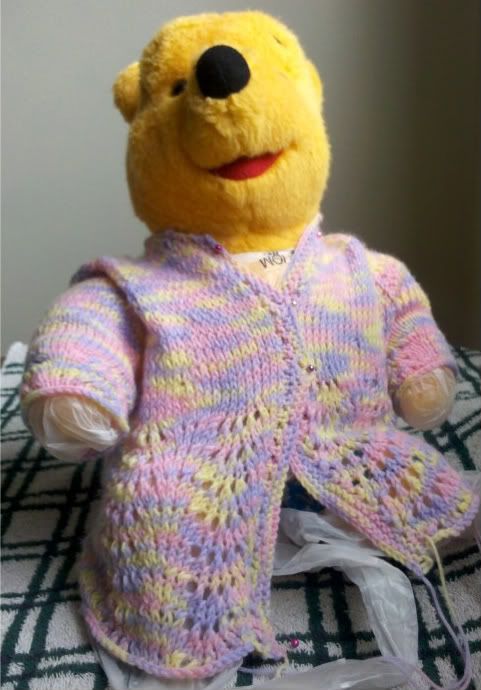 the sleeves are a bit shorter than the pattern. On purpose - it'll be for a summer baby so I thought shorter sleeves would be better. the last thing I need to do is add buttons. i'd be willing to bet I don't have any that will match so I'll have my eyes peeled for some cute ones and get them on sometime in the next 4 months (which I think I can manage.. hehe). Doesn't pooh look happy to be modeling a pink & purple baby sweater? I never liked pooh much, so that's what he gets... I do love the sweater though!
also. during the knitting of this sweater I decided that I'm not buying varigated yarn anymore, at least for a little while. I'd rather it have been a solid color. or even stripes. it's not bad, just not the look I wanted I guess. it's extremely soft & light and I think it will look adorable on anyone other than pooh. :)