is it really already wednesday again.
time is going faster than I like again.
How does that happen?
anyways, i did accomplish something knitting this week - I made a headband for my ears because it's cold here and I don't have any accessories for keeping my ears warm. I never wear hats. ever. they look silly on me (as i showed a few weeks ago - maybe last week?). plus i'm always always always wearing a ponytail or some variation of one. hats don't do well with that either. but headbands do. especially when they button at the back. no i don't have pictures and no the button is not on yet. :) it's made of the same yarn as the last hat I made. blue/blended colors. it's done. i'm just bad at finishing - as I might have mentioned before.
also, i started a new scarf for my motherinlaw. we went to the store & picked out yarn together so it would match her
coat
, which looks similar to that, but also has white on it. It is the coastal color.
so anyways. i had free reign on design so, I found a stitch I liked (and never knew about) - rice stitch - and just went to town. I wish I'd have taken a picture of the back because, personally, i think the pattern on the back is equally pretty.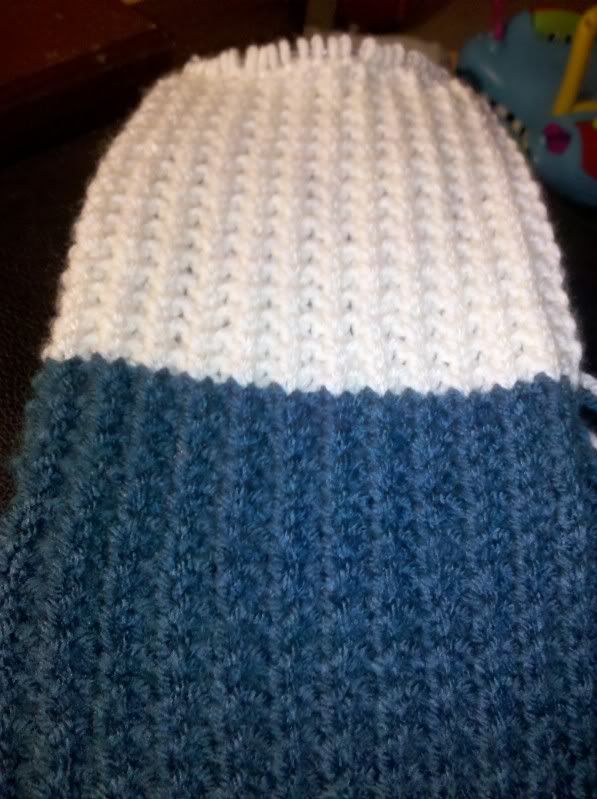 it's going to be mainly white (cream that matches her gloves lol) with the teal at the ends. no stripes, just blocks. not even halfway done yet. I told rob that I wish I had picked something just a little more interesting to stitch, but I think it'll be a pretty scarf regardless. It is much more 'mindless' than the socks, which haven't been touched all week. :) My mind needed to relax.
Happy wednesday! Friday is only two days away.